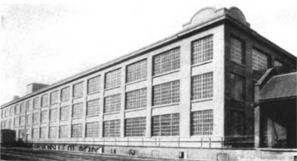 The Art Metal Construction Company, Inc. was founded in 1888 in Jamestown, New York. Its industry was metal furniture and office equipment and its headquarters remained in Jamestown, New York. In February 1968, the firm was acquired by Walter E. Heller & Company. The Art Metal division of Art Metal-Knoll was purchased by Tomar Industries, Inc. in 1970. In June of 1971 the plant was shut down.
PLANTS
Fresno, California
Jamestown, New York
Spartanburg, South Carolina
Wabash, Indiana
COMPANY NAMES
Fenton Metallic Manufacturing Company (1888-1900)
Art Metal Construction Company (1900-1959)
Art Metal, Inc. (1959-1967)
Art Metal-Knoll Corporation (1967-1970)
Art Metal Division (1970-1971)
ADVERTISEMENTS
Community content is available under
CC-BY-SA
unless otherwise noted.