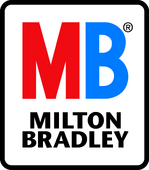 The Milton Bradley Company, or simply known as Milton Bradley ( or MB), was founded in 1860 by Milton Bradley in Springfield, Massachusetts. Its industry was board games and its headquarters remained in Springfield, Massachusetts. The company was acquired by Hasbro, Inc. in 1984 and operated as a division until its dissolution as a corporate entity in 1998. Since 2009, "Milton Bradley" was a brand marketed by Hasbro.
ACQUISITIONS
PRODUCTS
Board Games

Battleship (1967)
Buckaroo! (1970)
Candy Land (1949)
Chutes & Ladders (1943)
Connect Four (1974)
Crossfire (1971)
Dark Tower (1981)
Easy Money (1966)
The Game of Life (1860)
Go to the Head of the Class (1936)
Guess Who? (1982)
Hungry Hungry Hippos (1978)
Operation (1965)
Pirate & Traveler (1911)
Rack-O (1956)
Simon (1978)
Twister (1966)
Vectrex (1983)
Yahtzee (1968)

Bradley's Water Colors
ADVERTISEMENTS
Community content is available under
CC-BY-SA
unless otherwise noted.