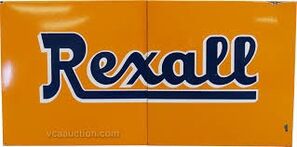 The Rexall Drug Company was founded in 1901 by Louis K. Liggett and 40 druggists/investors in Boston, Massachusetts. Its industry was pharmaceuticals and its headquarters was in Los Angeles, California. It had a holding company called United Drug, Inc. which changed its name to United-Rexall Drug, Inc. In 1985, Rexall was acquired by Sundown Vitamins. In 2000, it was acquired by Royal Numico N.V. who sold it to NBTY, Inc. in 2003.
COMPANY NAMES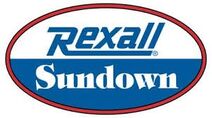 Drug Merchants of America (1901-1902)
United Drug Company (1902-1945)
United-Rexall Drug Company (1945-1959)
Rexall Drug & Chemical Company (1959-1969)
Dart Industries, Inc. (1969-1993)
Rexall Sundown, Inc. (1993-2000)
PRODUCTS
Cara Nome Face Powder (8 shades)
Cara Nome Perfume
Cara Nome Beauty Program Kit
Rexall Alco-Rex
Rexall Epsom Salts
Rexall Stork Nurser
Quik-Tel Fever Thermometer
Rexall Hydrogen Peroxide, USP
Wickstyle Household Deodorant
No. 6 Pine Oil Disinfectant
Lord Baltimore Portfolio
Kantleek Standard Hot Water Bottle
Kantleek Combination Syringe
Rexall Ammoniated Tooth Paste
Rexall Deluxe Tooth Brush
Rexall Klenzo Antiseptic
Rexall Denturex Adhesive Powder
Cara Nome Hormone Powder
Cara Nome Face Powder
Cara Nome Lipstick
Helen Cornell Cream Shampoo
Stag After-Shave Lotion
Rexall Cocoanut Oil Shampoo
Rexall Milk of Magnesia (and tablets)
Stag Brushless Shave Cream
Rexall Reel-Roll Cotton
Cara Nome Hand Cream
Rexall Aspirin
Bisma-Rex Mates
Kitchen-Fresh Cottage Chocolates
Rexall Mi-31
Rexall Analgesic Balm
Rexall Cod Liver Oil
Rexall Nose Drops
Rexall Boric Acid
Rexall Antihistamine Tabs
Rexall Plenamins
Rexall Corn Solvent
Rexall Puretest Mineral Oil
Rexall Castor Oil
Glycerin Suppositories
Rexall Glycerin & Rose Water
Rex-Seltzer
Rexall Petrofol
Rexall Eyelo
Rexall Hygienic Powder
Rexall Quik-Bands
Rexall Mercurochrome
Rexall Pro-Cap Adhesive Tape
Rexall FirstAid Gauze Bandage
Rexall FirstAid Absorbent Cotton
Rexall Surgical Powder
Rexall Tincture Iodine
Rexall Beta Caps
Rexall Yeast & Iron Tablets
Rexall Ascorbic Acid Tabs
Dicalcium Phosphate Compound w/ Viosterol
ADVERTISEMENTS
Community content is available under
CC-BY-SA
unless otherwise noted.