The Royal Typewriter Company was founded in January 1904 by Edward B. Hess and Lewis C. Myers in Brooklyn, New York. It specializes in typewriters and is headquartered in Hartford, Connecticut. In 1954, Royal and McBee merged to form Royal McBee. In 1964, Royal McBee was acquired by Litton Industries. In 1979, Volkswagen acquired a 55% stake of the company. Again, Royal was bought by Olivetti S.p.A. It wasn't until 2005 when it became a private company again.
COMPANY NAMES
Royal Typewriter Company (1904-1954)
Royal McBee (1954-1965)
Royal Typewriter Company (1965-2004)
Royal Consumer Information Products, Inc. (2004-)
MODELS
Portable (1926-1931)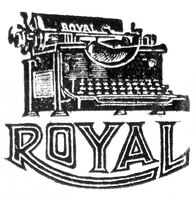 Community content is available under
CC-BY-SA
unless otherwise noted.