Stokely Brothers & Company was founded on January 1, 1898 by Anna R. Stokely, her two sons James R. and John M. Stokely, and A. R. Swann along the Seehorn Creek in Tennessee. Its industry was canned foods (currently beverages) and its headquarters were in Tennessee (1898-1927), Louisville, Kentucky (1927-1933), Indianapolis, Indiana (1933-1983) and Chicago, Illinois (1983-present).
In 1927 the firm merged with the Jefferson Canning Company and its offices were moved to Kentucky. In 1933, it acquired the Van Camp Packing Company and changed its own name to Stokely-Van Camp in 1944. In 1983 the firm was acquired by the Quaker Oats Company. When Quaker Oats was acquired by PepsiCo, Inc. in 2001, Stokely-Van Camp's ownership was transferred to Pepsi.
SUBSIDIARIES
COMPANY NAMES
Stokely Brothers & Company (1898-1944)
Stokely-Van Camp, Inc. (1944-present)
PRODUCTS
Stokely's Honey Pod Sugar Peas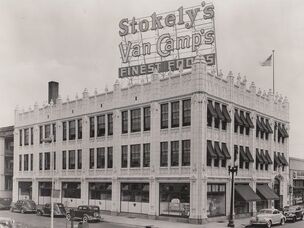 Community content is available under
CC-BY-SA
unless otherwise noted.